Nitrifying Nuggets for Ponds are a great way to give water quality a boost.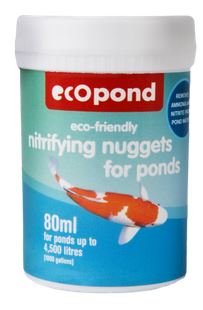 Nitrifying Nuggets for Ponds are formulated with both Nitrosomonas andNitrobacter bacteria. The levels of these beneficial bacteria will have been depleted over the winter so using a booster product in the spring will help to keep the pond healthy with the onset of feeding and greater fish activity.
Ecopond Nitrifying Nuggets are also great for dosing before going on holiday, as they provide a hassle-free, drip feed application of the bacteria, to keep water healthy and prevent damaging build up of ammonia and nitrite. Or, used where problems have already occured they will quickly reduce ammonia and nitrite levels. Provided as small gel cubes, they can simply be added to the filter, or sprinkled directly into the pond.